Apify Freelancers
Get an affordable custom web scraping, data extraction, or robotic process automation (RPA) solution from Apify-approved developers.
Apify Freelancers are experienced developers bound by strict NDAs who undergo a thorough onboarding process. They will deliver custom solutions for your unique web scraping and web automation needs.
How does it work?
1
Specify what you need
Request a custom solution via a quick form. Apify Freelancers or Apify staff might reach out with a few more questions to make sure the proposals you receive are tailored to your requirements.
2
Receive and review proposals
Apify Freelancers will send you their project proposals, quotes, with a timeline for delivery. Apify staff will help you select the best offer for your unique needs and you'll need to pay a deposit before the work on the project can start.
3
Track development
The selected developer will be in close contact with you throughout the process to make sure everything stays on track.
4
Receive your solution
When the solution is ready, you'll have the opportunity to thoroughly test it before approving delivery. The source code, project details, and other information you share during the process won't be accessible to others. Enjoy and start planning your next project! 🙂

Any questions? Check out our Freelancers FAQs.
What can you expect?
Turn-key solution
Your solution is ready to go upon delivery—no coding needed. Start getting data right away.
Easy-to-use platform
Your solution will be delivered on the Apify cloud platform, making it a breeze to run.
Top quality
Each developer has been carefully selected and onboarded by Apify staff.
Money-back guarantee
Every project is risk-free. If the solution isn't up to your standards, you'll be refunded.
Security and privacy
Your project will only be seen by a select-few Apify-approved developers with NDAs.
Cost-effective
Get quality data you can rely on at a price that won't break the bank.
Got more questions?
Check out the Apify Freelancers FAQs
What is Apify Freelancers?
Apify Freelancers is a convenient and cost-effective way to order a web scraping or automation tool. The aim is to provide the most frictionless data extraction experience possible. It's as easy as requesting a project through the following form!
Is this a safe way to get my project done?
All our developers are carefully assessed, bound by strict NDAs, and undergo a thorough onboarding process. Apify Freelancers is a moderated online marketplace, where we offer a 14 days money-back bug protection period that starts from the day of delivery.
What will the solution look like?
The solution will be delivered to your Apify account in the form of an Apify serverless app (AKA an actor). You will have access to (and own) the source code. All that is required from your side is clicking a couple of buttons to let your crawler loose.
You may run the actor manually through a browser or set it up on a schedule to run automatically. Of course, you can also use our API. Additionally, we perfectly integrate with services like Zapier.
The output will be available in a variety of formats by default: XLSX, CSV, JSON, HTML, XML and RSS.
How do I evaluate proposals?
Take into consideration the developer's track-record, the quoted price, and the number of days until delivery. Typically, developers with higher ratings place higher bids. Also, shorter time-to-delivery commands a higher price. We currently allow a maximum of 3 proposals per project.
Clicking on the developer's name will take you to their Apify page where you'll be able to read what our customers had to say about them as well as see their current rating, number of reviews, and experience level.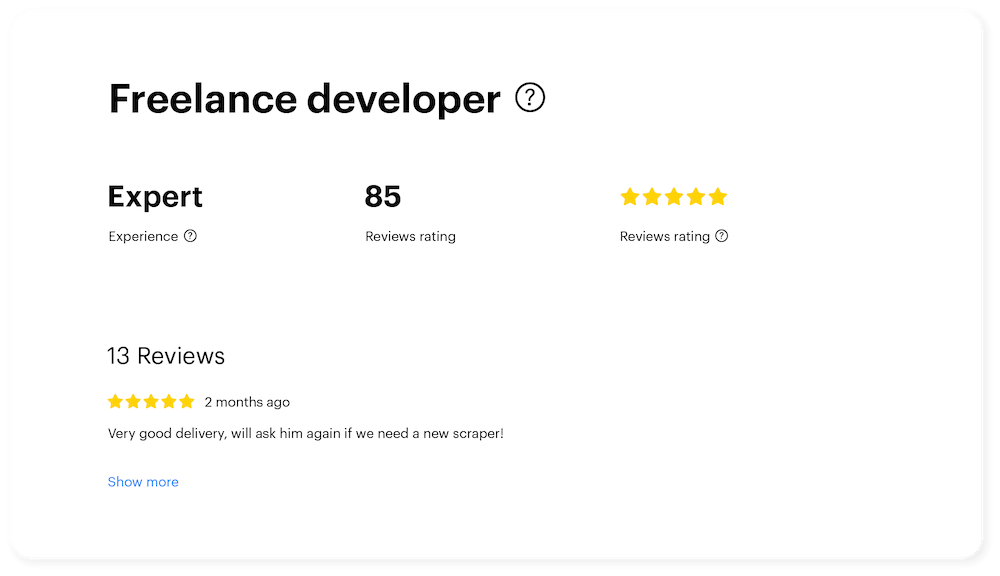 Do I need to leave my computer on when the actor is running?
No. The solution will run on the Apify platform. Once you start an actor, you can turn off your computer. Apify servers are up 24/7, so we take care of all that for you.
How do I test the solution?
Once the solution is ready, the developer will provide sample data for you to go through. On the project page, you'll find links to a sample dataset (as well as a sample run). Just click on one the links (HTML, JSON, CSV or Excel) to check the data.
Once you're satisfied with the sample dataset, you may click on the Accept solution which will copy the actor to your account. You may also Request changes.

Clicking on the Accept solution button is non-binding, and the 14 days money-back guarantee still applies.

How do I run the delivered solution?
On the delivered actor's page, navigate to the Console section. Click on the Run button to start the actor. When the Editor mode is selected, the input (if any) can be entered through a graphical user interface.

Will the solution be accessible to others?
The actor will only be available to you, and you will own the source code. It will never be made public.
How do I estimate the running costs?
Crawling the web requires a certain amount of resources. The delivered solutions require modern and scalable hardware, access to a reliable large-bandwidth network, and a large number of hard-to-detect IP addresses. The Apify platform was built with all that in mind. It integrates all the features needed to scrape the web in a user-friendly package.
Most modern websites have some sort of anti-bot mitigation system in place which means that you will need access to proxy servers in order to obfuscate the origin of the queries (for example, by rotating IP addresses). Proxy servers are a costly infrastructure to maintain, so they do not come free (you get a month's trial of 30 datacenter proxies on your free account). Proxy server access is standard on all of our subscription plans.
In addition, our plans come with a number of Compute Units (server memory * time). Apify apps that run on the platform will consume server memory and time. You can choose your plans based on your expected consumption.
What happens if the website introduces new protections?
If the website changes structure or introduces new protections within the 14 days money-back guarantee period, we'll find a fix and update the delivered actor at no additional cost. For changes that occur outside of the 14 days window, we charge a reasonable maintenance fee.
How can I pay the deposit?
Once you choose a developer, you will receive an invoice in your inbox. We currently accept payments through PayPal and bank transfers.
What are the steps of the process?
Send us your project specification, then kick back and wait for quotes. Once you pick the proposal that best matches your budget and time constraints, you'll have to pay the deposit (We offer a 14 days money-back guarantee that starts from the day of delivery!). As soon as the development phase is over, you'll get an update so you may check the delivered samples and test run your actor. Enjoy hassle-free data extraction!
How can I become an Apify Freelancer?