Integrations
Connect Apify with your favorite web apps
Apify can be connected to practically any cloud service or web app. This is useful if you need to process and analyze actor results to get better insights from the data, if you want to receive automatic email notifications whenever something important has changed on the website you're watching, or if you want to upload new contacts into your CRM.
Would you like to integrate our solutions and market them together? Visit our partners page.
Zapier is a tool that lets you connect 1,500+ apps and automatically move data between them so that you can focus on your most important work. The Apify integration for Zapier lets you connect Apify actors, key-value stores and datasets and thus perform web scraping, data processing or web automation tasks in your workflows.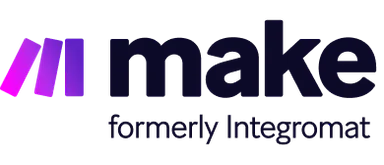 Make is a powerful integration platform that allows you to connect apps and share data without any need for coding. You can drag and drop apps, filters, and other functions to create a wide variety of Apify integrations. With Make's visual builder, you can manage your Apify actors and tasks by connecting them with any other app or API.

Keboola Connection is a cloud-based, dynamic & open data integration and manipulation platform. Use it for anything from data extraction, cleaning, warehousing, enrichment, to predictions. Automate tasks in marketing, operations and more. Apify connector for Keboola lets you plug results from actors into your data processing pipelines.

Transposit enables people to connect to APIs, and avoid the overhead of authentication, pagination, retries, and related grunt work. Use SQL and JavaScript to explore data in real time, bringing the power of a relational database to your diverse data sources.
Airbyte is an open-source data integration engine that helps you consolidate your data in your data warehouses, lakes, and databases. The Apify connector for Airbyte lets you easily and quickly plug results from actors into your ETL pipelines.

Webhooks provide an easy and reliable way to configure the Apify platform to carry out an action (e.g. a HTTP request to another service) when a certain system event occurs. For example, you can use webhooks to get a notification whenever an actor run finishes, and then use its results in the next steps of your workflow.

What would Apify be without an API? Apify can be connected to virtually any other cloud or local service using a RESTful API. The API lets you programmatically control virtually every aspect of the Apify platform, invoke actors, check their results, etc.