Google Search Bar Scraper
caprolok/google-search-bar-scraper
Google Search Bar Scraper: Next-gen keyword research tool. Extract keywords from Google, aligning content with market demand. Vital for bloggers, e-commerce pros, & digital marketers. Boost SEO, craft impactful content, and increase traffic. Harness real-time keyword insights and lead the trend.
🔍 Google Search Bar Scraper (💯% Free!)
📌 Introduction:
Google Search Bar Scraper is your go-to digital companion for tapping into the web's autocomplete wonders. It's smart and fast, quickly fetching a list of relevant search suggestions based on what you type. Whether you're diving into SEO research, gauging the latest market trends, planning your next big content, or just being curious about what the world is searching for, this tool has got you covered. With its user-friendly interface, even digital newcomers can navigate with ease. Step into the pulse of online search trends and stay ahead of the curve with our trusty tool.
🌟 Why Use Our Tool? 🌟
🔍 Deep Insights: Get a broader perspective on search behaviours, great for research and marketing.
💸 Cost-Efficient: Why pay when you can get it for free? Get top-notch results without spending a dime.
📚 Easy-Peasy: We've made sure it's a walk in the park.
🌐 Multiplatform Flexibility: Seamlessly integrate and utilize our tool across various platforms and devices.
🔌 API Integration Ready: Elevate your data workflows and applications with our accessible API.
🚀 Features:
🖊 Seamless User Input Capture: Simply type in a keyword or phrase and watch the tool work its magic!
📊 Comprehensive Results: Experience a panoramic view of search extensions, all at no cost.
⚡ Speedy & Simple: We're fast, and we promise it's a breeze to use.
📥 Grab Your Results: Want to keep those suggestions? Download 'em!
🔧 User-friendly Interface: Simplified for everyone, ensuring a smooth experience.
🎥 Demo:
Here's a brief demonstration of how Google Search Bar Scraper generates real-time suggestions from Google Search bar:
| | |
| --- | --- |
| This GIF shows search keyword inputs with prefix: | This GIF shows search keyword inputs with Suffix: |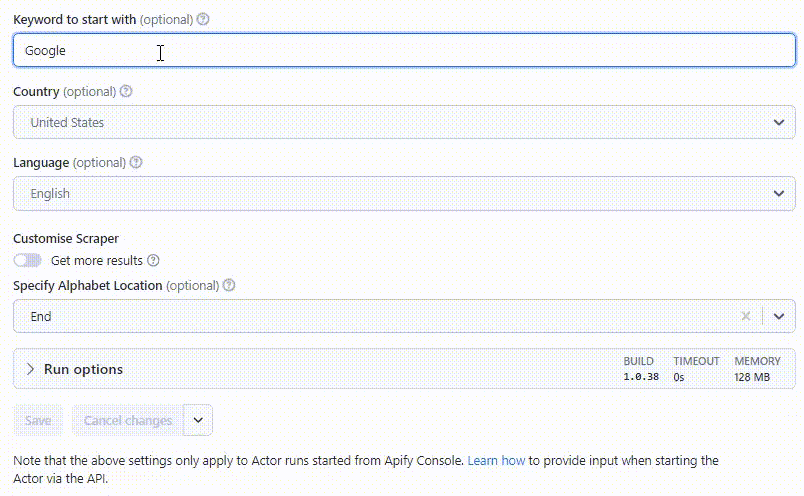 Watch as our tool generates real-time search term suggestions directly from Google's search bar, providing valuable insights into user behavior and market trends.
🛠 How it Works:
🔍 Input Submission: Feed the tool your keyword or query.
🔄 Apify Integration: Seamlessly interacts with the backend Apify actor.
🌍 Google Autocomplete Call: A real-time call to Google gathers those precious suggestions.
📈 Applications:
📊 Business Decisions?: Understand market shifts and adapt on-the-fly.
💼 Up Your SEO Game: Uncover trending keywords for your site.
📝 Content Ideas Galore: Write on topics people are curious about.
💼 Boost Your Traffic: See popular searches to make your site shine.
📝 Write Trendy Stuff: Write about what people are looking for!
🥳 In a Nutshell:
In today's fast-paced digital world, staying in tune with search trends and user behaviours can be a game-changer. With the Google Search Bar Scraper Tool at your fingertips, you're not just keeping up; you're getting ahead. Embrace the future of search insights and let this tool be your guide to the ever-evolving digital landscape. Discover, adapt, and excel with every keystroke.
You might also like these Actors