Youtube Search Bar Scraper
caprolok/youtube-search-bar-scraper
Enhance your video strategy with Youtube Search Bar Scraper. Dive into real-time Youtube search trends, pinpointing trending keywords and themes. Ideal for content brainstorming and optimizing uploads, a game-changer for vloggers and brands. Harness the tool's insights to captivate more viewers.
🔍 YouTube Search Bar Scraper
📌 Introduction:
Welcome to the YouTube Search Bar Scraper, a powerful software tool designed to help you extract and analyze search term suggestions directly from YouTube's search bar. Our goal is to provide you with valuable insights into current video trends, user interests, and emerging content ideas on the platform.
🛠️ Why Use Our YouTube SEO Tool?
🎯 Unmatched Data Accuracy: Our YouTube Search Bar Scraper taps directly into YouTube's search bar, ensuring you receive authentic, real-time insights that accurately reflect current user behavior.

👥 User-Focused Design: We prioritize user experience, offering a seamless journey from input to results, making research effortless and efficient.

💸 Budget-Friendly Solution: Access valuable market insights without straining your budget. Our YouTube SEO tool is 100% free, delivering premium-level data without hidden costs.
📈 Key Benefits of Our YouTube Search Bar Scraper:
💰 Cost-Free Insights: Gain unparalleled market insights at no cost, making it accessible to individuals, content creators, and businesses of all sizes.

📋 Tailored Content Strategies: Assist content creators and marketers in crafting data-driven strategies, improving video titles, descriptions, and content promotion.

🔎 YouTube SEO Optimization: Our YouTube SEO tool is an essential asset for developing efficient YouTube SEO strategies and optimizing video discoverability.

📊 Trend Identification: Stay ahead of the curve by monitoring market dynamics, identifying trending topics, popular video ideas, and shifts in user interests.

🔗 Easy Integration: Our YouTube keyword research tool is API-ready, allowing seamless integration with other software tools, analytics platforms, or content management systems.
🌟 Detailed Features:
🖱️ User-Friendly Interface: Our interactive interface enables effortless entry of keywords or phrases. It handles single or batch keyword input without compromising speed.

⏱️ Real-time Data Extraction: Sophisticated algorithms ensure that the search results closely match real-time or near-real-time suggestions from YouTube.

🌐 Wide Search Coverage: Select specific YouTube domains or regions to ensure results are relevant to your target audience.

💾 Export and Sharing Options: Export search suggestions in popular formats like CSV, JSON, or Excel. Generate shareable links for collaboration or presentation purposes.
🎥 Demo
Here's a brief demonstration of how the YouTube Search Bar Scraper Tool works:
This GIF shows how input search keywords generate real-time suggestions from Youtube's Search bar.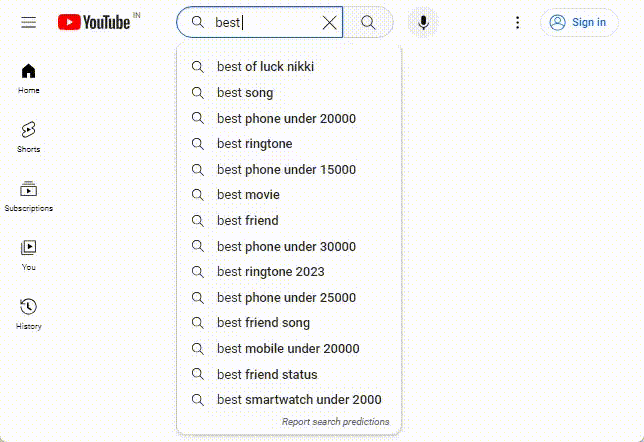 Watch as our tool generates real-time search term suggestions directly from Youtube's search bar, providing valuable insights into user behavior and market trends.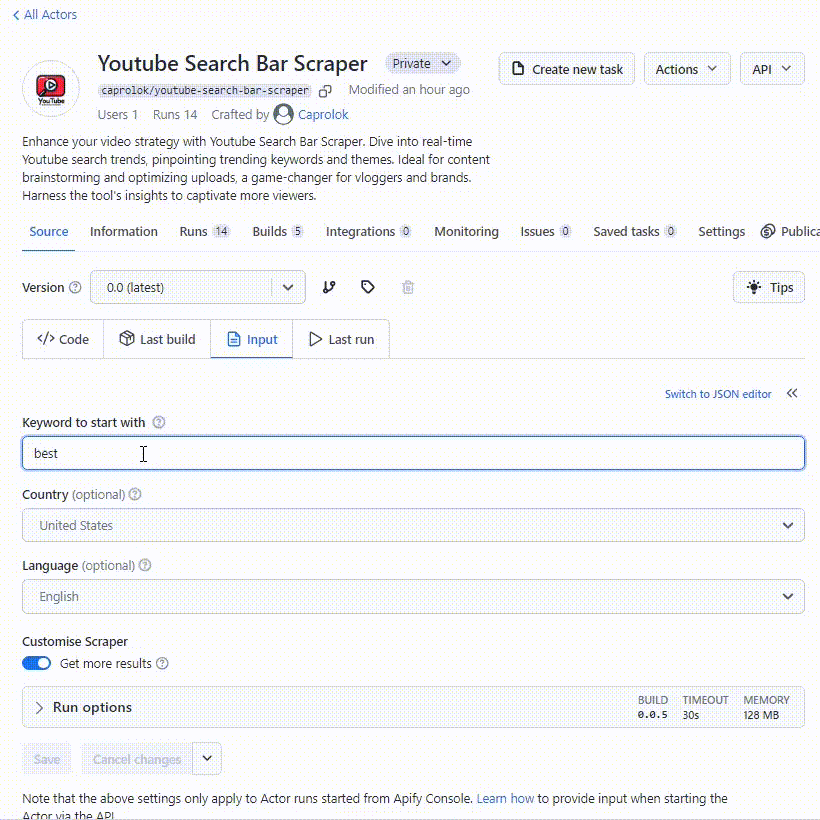 🔄 Workflow Overview:
👤 User Input: Users input keywords or phrases they wish to explore via a clear interface.

🔍 Data Retrieval: Our tool simulates user typing to fetch suggestions directly from YouTube's search endpoint, mimicking natural user behavior.

📜 Data Processing: Suggestions from YouTube are efficiently processed and organized.

🖥️ Clear Presentation: Data is presented in an organized, categorized manner for easy interpretation. Users can sort results based on relevance or other criteria.

📥 Data Export: Easily export the entire dataset or selected entries for in-depth analysis.
🔚 Conclusion:
Harness the power of real-time data from YouTube's vast search queries with the YouTube Search Bar Scraper. This free tool empowers content creators, marketers, and researchers to make informed, strategic decisions and stay at the forefront of the ever-evolving YouTube landscape.
You might also like these Actors